ACCAN votes The Genuine Aussie Phonecard as the Best and Fairest Phonecard
December 19, 2012. ACCAN, the Australian Communications Consumer Action Network today voted The Genuine Aussie Phonecard and one of Australia's best and fairest phonecards in the market. ACCAN Said that more than half of the cards they tested were complex and contained hidden fees and charge.
The Genuine Aussie Phonecard is a stand out card in the market, with a 'What you see is what you get' approach. With no hidden connection or flagfall fees, so minimum call duration or daily service fees. The Genuine Aussie Phonecard is really the calling card of choice in Australia!

Its great to be recognised for something Access Phonecards have been striving for for so long!

A link to the media release on the ACCAN website can be found here.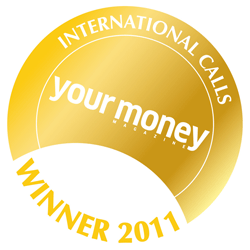 The Genuine Aussie Phonecard awarded Gold Medal from Your Money Magazine
We are proud to announce The Genuine Aussie Phonecard has been awarded the Gold Medal for 2011 from Your Money Magazine in the Phonecard category as the Cheapest International Calls. The magazine carried out extensive research into the Phone Card category and found the The Genuine Aussie Phonecard proved to be the best in its category beating all other cards. This is a fantastic result for the team here at Access Phonecards and we are proud to receive this award, the entire team have worked hard for many years to ensure our product stood out in a crowded market, this is sometimes very difficult given we are considerably smaller than the three major players in our market, nonetheless we have always passionately stood behind our belief in the product.